Best Riverdale Chiropractor - Dr. Valentina Adcock DC
If you are experiencing neck pain, back pain, or were injured in a car accident, contact our Top Riverdale, Georgia Chiropractors for an evaluation.
At Arrowhead Clinics, we have been helping the injured for over 40 years.
Our Chiropractor work with Medical Doctors to come up with a unique treatment plan for each patient that is tailored to their particular pain conditions. Our Riverdale Chiropractic Clinic is a one stop solution to Medical treatment for those who are suffering from pain or injury.
If you are were injured or are suffering from neck or back pain, contact our Riverdale Chiropractors. We provide a free consultation to see how we can help with your recovery.
Click below to schedule your Free Riverdale Chiropractic Evaluation.
Arrowhead Clinic Chiropractor Riverdale
Address: 83 Upper Riverdale Rd, Riverdale, GA 30274
Phone: (770) 961-7246
Hours:
Monday 9AM-7PM
Tuesday 9AM-7PM
Wednesday 9AM-7PM
Thursday 9AM-7PM
Friday 9AM-7PM
Saturday 9AM-2PM
Sunday Closed
Pain as a Result of an Auto Accident
Unfortunately, pain is a common occurrence after an auto accident. The blunt force impact that occurs during a traffic collision can play all sorts of havoc on the human body. There is no portion of the body that cannot be effected by such a traumatic accident. You can develop whiplash in your neck. You can throw your hips out of alignment, which will hinder your ability to walk. You can even slip a disk and develop sciatica. The list goes on and on. That is why it is so crucial to see a health care professional after a car accident.
Provided you are not in any immediate life threatening danger, a chiropractic care professional is a great resource for overcoming your pain. An experienced chiropractor, like those at Arrowhead Clinic Riverdale, have a plethora of tools for diagnosing your specific condition. These range from hands on examinations to x-rays. An accurate diagnosis will help your chiropractor develop your optimum recovery treatment plan.
If you are experiencing pain as a result of a car accident, contact us. The chiropractors at Arrowhead Clinic Riverdale specialize in these types of accidents. Call and schedule a free consultation with our skilled chiropractors today!
Our Riverdale Chiropractors Treat Multiple Types of Injuries
Many people who are suffering from an accident injury will come to our Riverdale Chiropractor for treatment. However, we do not limit ourselves to only treating victims of car accidents.
We also treat the following pain conditions:
Neck Pain
Scoliosis
Back Pain
Numbness
Slip and Fall Injuries
Knee Pain
Shoulder Pain
Whiplash Injuries
Herniated Discs
Sports Injuries
Bulging Discs
Work Injuries
Arm Pain
Sciatica
Disc Degeneration
Carpal Tunnel
Our Riverdale Chiropractors focus on the underlying source of your pain. We treat the cause of your pain condition which will then alleviate the symptoms that you are experiencing.
We have multiple treatment options available that we utilize to help patients recover.
Our Riverdale Chiropractors are highly trained and experienced in the latest techniques and procedures.
The Right Chiropractic Treatments
At our Riverdale Clinic, we offer various treatments to provide optimal recovery to our patients.
Some of the treatments we offer include:
1. Chiropractic Adjustments: Spinal adjustments can be used to treat many types of injuries and can help to
Alleviate any unwanted pressure from the neurological tissue

Increase range of motion

Restore blood flow

Reduces muscle tension

Create a chemical response in the body that will act as a natural painkiller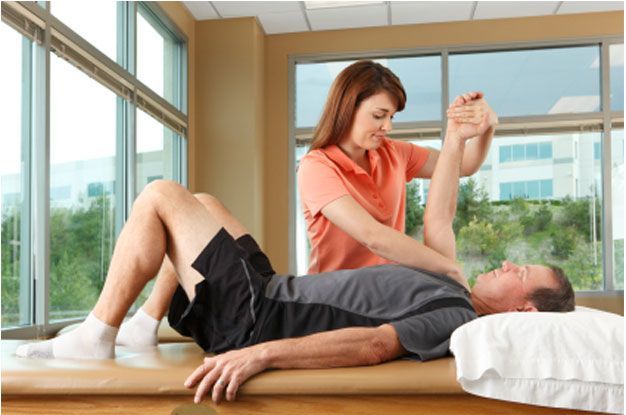 2. Decompression and Traction: Spinal decompression is a type of motorized traction that utilizes a system of rollers that move along the spinal erectors, while massaging and stretching the muscles in the back.
Decompression releases pressure on the sensitive nerve roots and decompress the discs. This form of therapy is usually prescribed for patients who are suffering from
3. Electrical Stimulation Therapy: Electrical Stimulation is a therapeutic treatment that uses the flow of electricity to stimulate and treat cramping, muscle spasms, and pain.
It mimics the way the body naturally exercises its muscles. The electrodes that are attached to the skin will deliver an impulse that contracts the muscles.
Electrical Stimulation Therapy helps to increase a patient's range of motion and improve the circulation in their body. This treatment is usually used to treat
Sprains
Scoliosis
Back pain
Sciatica
Arthritis
4. Pelvic Stabilization Drills: The Chiropractor may prescribe a small heel lift when a patient is suffering from:
Leg length deficiency
Flat feet
Subtalar instability
This usually helps to stabilize the pelvis and correct the walking gait which should alleviate tension.
Benefits of Chiropractic Care
Chiropractic Care is a natural method of treatment that is used to heal the body. Many people looking for an alternative method for health care and acute or chronic pain conditions will choose chiropractic care.
Our Riverdale Chiropractors work with each patient individually to create the optimal plan for recovery.
The benefits of chiropractic care include:
Triggers the Body's Ability to Heal: The focus of Chiropractic care is to maintain the patients health naturally, which will assist the body in fighting off disease, instead of just simply treating the pain symptoms.


No Drugs or Surgery: Chiropractors use spinal manipulations and adjustments to correct vertebral misalignments in the spine. Chiropractors do no prescribe pharmaceutical drugs or use invasive surgery. The treatment they use is an all natural method of healing to stimulate the body's communication system.


Partner with Medical Doctors:

Chiropractors at our Riverdale office partner with Medical Doctors. A team approach is taken to ensure each patient's health and wellness. They work together designing a treatment plan that will be specialized for each patient's particular needs.


Improves the Immune System: Chiropractic adjustment remove subluxations that are preventing the nervous system from working properly. When the nervous system is working properly, it keeps the immune system functioning the way it should be, which means you will begin to recover from illness faster.


Improves Sleep: Many sleep issues stem from body aches, stress, or pain. When you remove these issues with regular chiropractic adjustments, it can improve quality of sleep.
Tips to Finding the Best Chiropractor
Deciding which Riverdale Chiropractor to go to for your health and wellness should not be taken lightly. There are some important factors to keep in mind when making a decision.
Here are a few tips to follow when looking for a Riverdale Chiropractor in Georgia:
1. Check Reviews: When you Google a Chiropractor in Riverdale, make sure to check their reviews. It is important to find out what others are saying about the Doctor and Clinic you are going to trust with your health and wellness.
2. Meet with the Chiropractor: The majority of Chiropractors are willing to meet for a free consultation to see if they are able to provide the treatment you need for your pain or injury condition. Before committing to treatment, you will be able to decide if the Chiropractor is right for you.
3. Techniques: During your free consultation ask Find out what type of techniques are going to be used. There are several methods chiropractors use for adjustments, so it is important to find out if they offer the method of adjustment that you prefer.
4. Fees: During your initial consultation with the Chiropractor they should be able to tell you the cost of your treatment. If you have insurance they should be able to tell you what it covers, if you're paying cash find out the cost per visit.
If you were involved in an accident, find out if the Chiropractor works with an attorney on a lien basis so you are not held responsible for the medical bills.
Contact Our Riverdale, Georgia Chiropractor Today
When you become injured and need a Chiropractor, our Riverdale clinic is the right place to be. We take walk ins for same day treatment as your accident.
Arrowhead Clinics have been serving the people of Georgia for over 40 years. We have the experience and skills to treat the source of your pain and help you return to your normal life.
Dr. Valentina Adcock from our Riverdale Chiropractic Clinic offers free consultations to the hurt and injured to see how he can help with your recovery.
To speak with Riverdale Chiropractor Dr. Valentina Adcock click on the link below now.