Among the most common causes of injuries, slip and fall accidents can be caused by anything from slick and slippery surfaces to hazardous steps and stairs to genuine misfortune.
People who suffer slip and fall injuries can experience trauma to bones, joints, muscles, and ligaments on nearly any place of the body.
When these injuries are severe and a chronic source of pain you may encounter limitations in your daily life.
If this sounds like something you are currently experiencing, it may be time to start exploring non-invasive, drug-free treatment options.
Your health should be a top priority, and chiropractors specialize in treating these types of musculoskeletal injuries.
At Arrowhead Clinics we have treated patients from all walks of life who have suffered many different types of injuries in slip and fall accidents for nearly 40 years.
By providing in-depth evaluations and listening closely to the circumstances surrounding your accident and the ways in which the trauma you experienced manifests as pain, we can determine the underlying cause and deliver targeted treatment.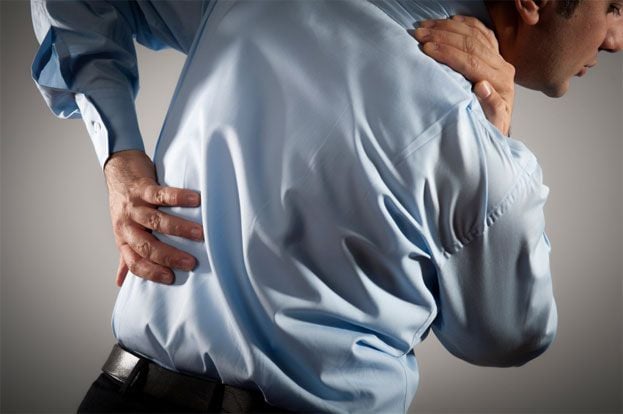 How Can A Chiropractor Help?
As chiropractic care focuses on problems with the musculoskeletal system, as well as the nervous system, it is uniquely suited to treat common slip and fall injuries, including sprains strains, joint pain, nerve pain, sciatica, neck pain, whiplash and back pain.
Our chiropractic doctors only use safe, natural and non-invasive treatment techniques. All of our adjustment methods effectively alleviate pain and increase range of motion and the body's natural ability to heal itself.
In addition to treating structures of the spine, chiropractic care is also used to treat injuries to the knees, ankles, elbows, wrists, and shoulders, which are parts of the body commonly injured during slip and fall accidents.
Who Is Responsible for Paying My Medical Bills After a Slip and Fall Accident?
Many slip and fall accidents that result in injuries occur because of another individual or property owner's negligent actions.
Whether you fall in a store, at someone's house, or in a building's messy hallway if the fall and resulting injury was due to someone else's carelessness you should not be responsible for paying for your treatment.
How to Determine Who is At-Fault?
If you are in a store or are on public property, it is required to have signs indicating steps, uneven flooring, slippery services, and so on. If you fell due to the lack of notification of a slick, wet, or uneven service, it may be the fault of the store or business owner.
If you fell on private property, it could be the property owner's fault if they knew there was a danger and have neglected to fix or make the area safe for people, especially if it was a walk way or on the way to the front door.
The laws around slip and fall accidents and negligence can be complicated, so it is best to consult a personal injury attorney for help and advice.
If you can not afford to get the medical treatment and care you need after a slip and fall accident, Arrowhead Clinic can work with your lawyer to make sure the appropriate person is held accountable for your injuries and medical bills.
Arrowhead Clinic works with a large network of quality personal injury attorneys and we can provide a referral to help ensure you get the best attorney who will fight for your legal right to compensation.
Contact Arrowhead Clinic Today!
If you have been hurt in a slip and fall accident and need medical treatment for ongoing pain, you are likely wondering what your First Steps After a Slip and Fall Accident Injury should be. Arrowhead Clinic specializes in treating these types of injuries.
Whether you fell on private property or a local business, our accident injury clinic can assist in your recovery.
If you need legal assistance to get the settlement you deserve and your medical bills paid we can refer you to a trusted and experience attorney.
Make the right choice and contact Arrowhead Clinic for all of your needs after a slip and fall accident injury in Georgia or South Carolina.
Call 800-961-PAIN (7246) or click on the button below now to schedule a Free Consultation with the chiropractor.