5 Common Truck Accident Injuries
Table of contents:
Truck Accident Injuries can cause serious, life-altering problems if they are left untreated, which is why it is important to seek immediate medical attention after being involved in a commercial vehicle accident.
Large Semi-Trucks are much bigger than regular passenger vehicles.
If a commercial truck is involved in a crash, it will more than likely cause a substantial amount of damage to the other vehicle involved.
Even if the accident occurs at a low speed, due to the sheer size and weight of the vehicle, severe injuries can still be sustained by the other driver in truck accidents.
Unless the truck flips or falls on its side, the truck driver will often be left unharmed.
After being involved in a commercial truck accident, you should seek immediate medical attention and chiropractic care.
In this blog, we discuss the 5 most common injuries associated with truck accidents and how to go about seeking medical attention.
1. Back and Neck Injuries
Back and neck injuries are probably the most common truck or car accident injury to suffer because of the jarring force that affects most drivers at the moment of impact.
If the neck and back become severely damaged, it can lead to limited range of motion, crippling pain, and even paralysis.
Seeing a Chiropractor after suffering a neck or back injury in a truck accident is important for a fast and optimal recovery.
2. Spinal Cord Injuries
Spinal cord injuries can be some of the most severe yet most common injuries to suffer in a truck accident.
The sensitive nerves that run through the spine allow the brain to communicate with the rest of the body, and if an injury occurs it can cause serious pain, the need for surgery, or paralysis.
Even if the injuries suffered are not permanent, they often require extensive rehabilitation treatment in order for the injured person to return to normal function.
To diagnose and treat accordingly, your chiropractor will usually order an X-ray or MRI.
3. Head and Brain Injuries
If a severe head or brain injury occurs in a truck accident, these injuries can be life-altering.
Trauma to the head or brain can result in loss of sense, blindness, disfigurement, hearing impairment, and damage to the eyes and ears.
If the victim suffers from a traumatic brain injury, it could cause them permanent disability or impairment.
Head injuries can also be as mild as a concussion.
However, regardless of the severity of the head injury, it is still advised to seek medical treatment to ensure there are no deeper underlying problems.
4. Rib Injuries
An injury to the rib cage can be very painful when trying to breathe, talk, or laugh.
If they are left unidentified or untreated, it could potentially puncture the lungs or cause other severe pain and damage to other parts of the body.
Chiropractors are trained to be able to put a misaligned rib back into place.
They use spinal adjustments and manipulations to realign the spine and musculoskeletal structure.
5. Internal Trauma
When a vehicle is hit by a semi-truck, the impact will often cause the airbags to deploy which can cause blunt abdominal trauma.
Even if the airbags do not deploy, seat belts are designed to hold the driver in place when they would otherwise be thrown from the vehicle.
The seat belt alone can cause severe chest pain, liver, bladder, spleen, or kidney injuries.
If an internal injury is suffered it is not always obvious immediately following the accident.
Never turn down medical attention, you could run the risk of becoming even more injured than you already are.
Click here if you are wondering How Chiropractic Care Can Help After A Truck Accident Injury?
Contact a Chiropractor to Treat your Truck Accident Injuries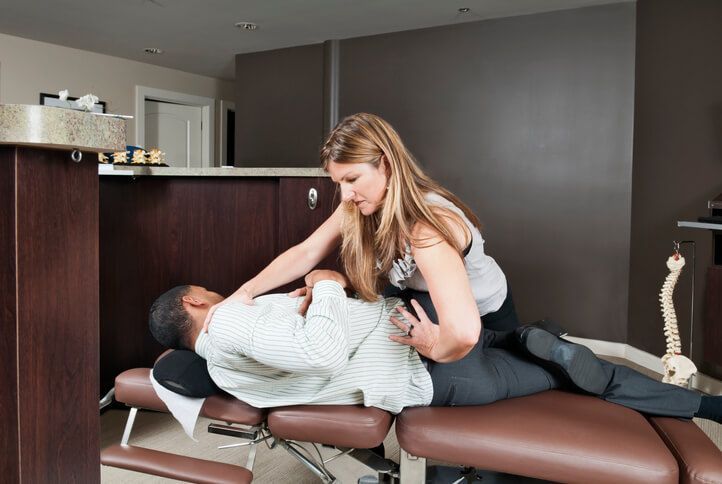 These are some of the most common injuries, but this list isn't comprehensive.
If you are suffering from an injury that was inflicted during a Truck Accident, car accident, or motorcycle accident, it is crucial to your health and recovery to see a Chiropractor as soon as possible.
Many people make the mistake of not seeking any kind of medical treatment after an accident, but that's a mistake you don't want to make.
It could not only affect your health for the rest of your life, but it could also affect your personal injury claim.
The Chiropractors at Arrowhead Clinic have been treating truck accident injuries for over 40 years, and they are ready to help you today.
Our Doctors have the skills and training to help you recover quickly and optimally from the injuries that you suffered.
Our doctors will complete a thorough exam, diagnose, and treat your truck accident injury. We will come up with a specialized treatment plan that is tailored to your specific pain condition and injury needs.
And, if your accident was due to the negligence of someone else, we can help you contact a qualified personal injury attorney that will help you get the compensation you deserve.
We offer a free consultation to see how we can best assist with your recovery and design your treatment plan.
Click below now to speak with our Top Truck Accident Injury Chiropractors today.
Dr. Darris Gentry
Dr. Darris Gentry is Arrowhead Clinic's Duluth Chiropractor. He specializes in treating accident victims as well as people suffering from chronic pain conditions. With the use of manual and hands-on spinal adjustments, he is able to help restore proper function and mobility to patients' bodies. Dr. Gentry has been a practicing chiropractor for over 20 years. He graduated from the University of Tennessee in Chattanooga and Life University, one of the country's top chiropractic schools. He enjoys treating patients who have back pain, neck pain, sciatica pain, and spinal trauma from all sorts of accidents. His main goal is to help his patients physically improve and reduce and manage their pain. Dr. Gentry is a motivated individual who enjoys helping others reach their goals. Healthcare, in all aspects, remains his main interest. He loves being a chiropractor and having the ability to help others. One of Dr. Gentry's recent patients stated, "The staff is so welcoming, and Dr. Darris Gentry is amazing. He helped me throughout my treatment." Dr. Gentry provides free, same-day consultations to all potential patients. He is available Monday-Friday from 9 a.m. to 7 p.m. During the consultation, Dr. Gentry will ask questions regarding medical history and a person's current physical condition, and the type of symptoms they are experiencing. He takes the time to thoroughly examine and diagnose each patient's condition before coming up with an individualized treatment plan that is tailored to their particular recovery needs.