How to Fix a Crick in Your Neck
No matter the cause of the crick in your neck, you will notice your neck is stiff, sore, and sometimes quite painful to move after sleeping in an awkward position, straining a muscle or moving your neck weirdly.
When this happens, you should seek medical attention for immediate pain relief.
In this this blog, we define what a crick in the neck is, how to manage the pain, and where to seek medical attention.
Table of contents:
A crick in the neck can be caused by a singular movement or by sleeping in a bad position.
Most people do not realize how much you turn your head and use your neck throughout the day until you can't.
Neck pain can be a debilitating issue if it isn't treated.
Therefore, we want to help you relieve the soreness in your neck and get you back to your full range of motion as quickly as possible.
Related post: The Main Symptoms Caused by Subluxation of the Cervical Spine
What Is a Crick In the Neck?
A crick is typically a very sudden neck pain that may be caused by a twitching, stiff, tight, or knotted muscle.
This pain can come out of nowhere, and even though you'd like to get rid of it immediately, they can last for a few minutes, a few hours, or even a few days.
It may even be felt in the upper back, causing back pain.
It can be triggered by the smallest movement of the neck, and although there are ways to fix the neck pain, there is no sure way to prevent a crick.
A crick in your neck can be extremely painful and even debilitating. It can interrupt your daily tasks and make even the simplest activities seem impossible.
If you have a crick in your neck, try the five pain management and treatment options below that should make that crick in the neck go away!
1. Gently Massage and Stretch Your Neck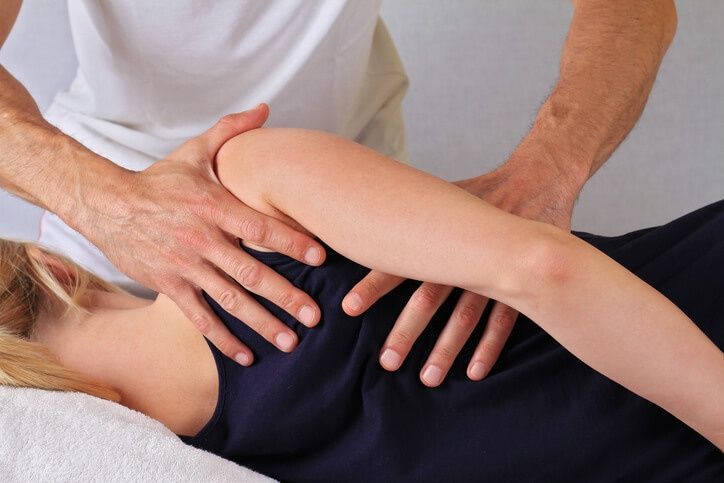 You can use your own hands, or someone else's if they are willing, to fix the crick in your neck.
Lightly rub your neck and upper shoulders and back where the muscles feel tight and knotted.
Do not rub too harshly and be careful not to hurt yourself further, but usually, a massage can loosen up a tighten or spasmed muscle.
If you want to stretch your neck gently, lay down on a flat and soft surface like a carpeted floor or bed, and slowly turn your head from side to side.
Do not turn your head until it is painful, just enough to slowly work out the kinks.
2. Alternate Between Hot Packs and Cold Packs
Hot and cold packs are some of the easiest ways to diminish pain symptoms after an injury.
Heat packs help to reduce muscle spasms and ice reduces inflammation.
If you know what works best for your body, try that.
You may want professional advice, and if so, contact a chiropractor to learn about what will work best for a stiff neck.
If you know what caused the crick in your neck, you will better be able to determine what type of treatment will work best for you.
3. Stay Hydrated
The importance of drinking water cannot be overstated.
Dehydration can cause muscle and joint issues, especially in the neck.
Women should be drinking 2 liters of water a day, and men should be drinking 2.5 liters of water a day. That's about 8-10 glasses of water daily.
It may seem like a lot, but it is necessary in order to stay properly hydrated.
Hydration can not only help heal cricks in the neck, but they can help prevent them from ever occurring in the first place.
4. Take Tylenol or Ibuprofen
We believe in natural pain remedies, but if you are in need of relief, many people indulge in taking a small dose of over the counter medication like Tylenol, ibuprofen, Advil, or aspirin.
This medication can help you feel better and decrease your inflammation in the short term, but a long-term and permanent solution is still necessary, so do not learn to rely on these types of pain medicines as your pain remedy.
5. Schedule an Appointment with a Chiropractor
We believe that the natural and safe treatments that chiropractic care offers are the best choice when you have a crick in your neck.
Similar to a physical therapist, chiropractors specialize in treating soft tissue injuries to the neck and back and are trained to realign your spine relieves tension and reduces pain symptoms properly.
Chiropractors can eliminate our neck stiffness and prevent future issues, so you never have to wake up in the morning with a stiff neck again.
A combination of regular preventive treatments and tips to take home, you can prevent future crick from ever occurring!
Some great ways our chiropractors have advised patients to reduce the likelihood of cricks occurring is:
Stretch your neck muscles daily by rotating your head and gently pulling it to each side.
Be sure you are using the correct type of pillow when you sleep and avoid using pillows that are too big and leave your neck in an awkward position.
If you work at a computer all day, be sure to take frequent breaks and hold your head in a comfortable position not too close or too far away from your screen.
If you believe you have a crick in your neck and you need chiropractic treatment to get rid of it, Arrowhead Clinic has been helping patients in need for more than 40 years.
We can help relieve your pain, stiffness, and soreness and even help you prevent future incidents from occurring.
We offer same-day appointments and the best treatment around, just click on the banner below to schedule your free consultation today with the experienced chiropractors at Arrowhead Clinic.