What is a Chiropractor and How Are They Different From a Physical Therapist?
With all of these different medical and doctoral positions, it can be confusing as to the differences between a few of them.
Another common question is Will your personal injury claim cover chiropractic care?
In this blog, we dive into the differences between a chiropractor and a physical therapist.
Table of contents:
The first step to getting relief from your pain involves you making a decision on what type of medical professional you are going to see.
To make this decision, it is important to understand the difference between Chiropractic care and Physical Therapy.
The three main differences between a Chiropractor and Physical Therapist are treatment philosophy, education, and clinical expertise.
Chiropractic care focuses on how the body moves and functions as a whole. It focuses mostly on issues related to back pain, neck pain, joint pain in the arms or legs, and headaches.
Physical therapists help you perform stretches and exercises to improve your mobility.
Physical therapists and chiropractors have some similarities and differences, and we'll discuss them below.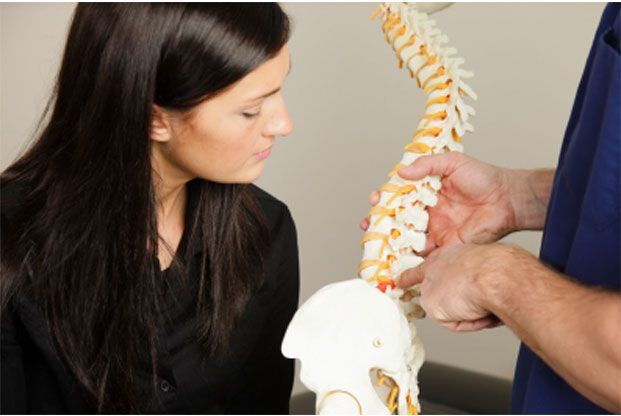 What are the similarities between physical therapy and chiropractic care?
Physical therapists and chiropractors have similar goals in mind for patients, but they may go about achieving these goals in different ways.
Some of the similarities they share include the following:
Both focus on managing pain and discomfort using noninvasive and nonsurgical techniques.
Both may use manual or hands-on therapy to treat a specific condition.
Both may treat, or co-treat, the same conditions.
Both may focus on wellness plans for their patients beyond what they can do during a session.
Both evaluate your symptoms by taking your health history, examining you, and even ordering certain tests.
Both a physical therapist and a chiropractor are licensed health professionals with years of education and training.
Chiropractic Treatment Philosophy
When it comes to treating patients who need pain relief, Chiropractic Care and physical therapy take slightly different approaches.
A Chiropractor focuses on conditions of the musculoskeletal system and nervous system and the effects caused by these conditions.
The symptoms that chiropractic care helps to relieve include back pain, neck pain, headaches, and other pain in joints, arms, and legs.
Chiropractic care uses a hands-on approach that includes examination, diagnosis, and chiropractic treatment.
They use their extensive diagnostic skill set to recommend therapeutic and rehabilitative exercises and provide nutritional, dietary and lifestyle counseling.
To alleviate their patient's pain, Chiropractors often use a technique called "Spinal Manipulation."
"The purpose of Spinal Manipulation is to restore mobility in areas with tissue damage, which decreases pain and muscle tightness and allows for healing."
Physical therapists, on the other hand, evaluate, diagnose, and provide treatment to restore movement and function such as strength, range of motion, and balance.
They use this knowledge to develop an individualized rehabilitation program from conditions caused by factors such as aging, injury, disease, or environmental factors.
Physical therapists are also involved in promoting health, wellness, and fitness through risk factor identification and preventative care.
Although there is a difference in techniques, both Chiropractors and physical therapists use their expertise to help rehabilitate and relieve pain in their patients.
Chiropractors' Education
In order to become a licensed chiropractor or physical therapist, there is a long education process that must be completed.
To become a Chiropractor, an individual must earn a Doctorate in Chiropractic which can take anywhere from 6-8 years. This includes 5,200 instructional hours and 3-4 years of undergraduate school.
Following undergrad, an individual must then complete 2-4 years of chiropractic school, a 1-year residency, and pass the National and State Board exams before they can provide care.
To become a Physical Therapist, a person must earn a Doctorate of Physical Therapy, which is usually a 7-year program.
This time includes approximately 3500 instructional hours and 4 years of undergrad followed by 3 years of physical therapy school. Including the 7 –year program, students must also complete a 30-week internship, and pass the National Physical Therapy Exam.
Chiropractors' Clinical Expertise
Although both Chiropractors and Physical Therapists are both specialists in diagnosing and treating their patients, they do have some differences in their areas of practice.
Chiropractors are experts when it comes to Spinal Adjustment and manipulation. This includes soft tissue mobilization and joint adjustment. Chiropractors use their knowledge of the musculoskeletal and nervous system to develop therapeutic modalities, chiropractic adjustments, and exercise regiments to provide pain relief for their patients.
Doctors of Chiropractic use evidence to support their treatment plans and adjustments of the spine, as well as diagnose joint subluxation complexes.
Their education also provides them with an in-depth understanding of Physical Therapy techniques, general medicine, radiology, and neurology.
Specialized areas that Chiropractors are knowledgeable in and use in their diagnostic and treatment process are Orthopedics, Pediatrics, General Rehab, Internal Disorders, Neurology, Nutrition, Occupational Health, Radiology, Sports Medicine, and Forensic Sciences.
Physical Therapists are experts when it comes to human movement and the restoration of all movement related processes.
Like Chiropractors, they also have a foundation of knowledge that extends into Chiropractic care and general medicine.
When it comes to treatment, the strength of physical therapy lies in manual therapy, joint and soft tissue mobilization, neurologic rehabilitation, sports performance, muscle coordination, and cardiovascular rehabilitation.
Physical Therapists diagnose movement, musculoskeletal, and functionally related conditions.
Specialized areas that Physical Therapists use in their diagnostic and treatment process are Orthopedics, Sports Medicine, Pediatrics, Geriatrics, Neurology, Cardiovascular, Pulmonary, and Clinical Electrophysiology.
Visit Arrowhead Clinic for Chiropractic Treatment
If you are in pain from injury or deterioration, both Chiropractors and Physical Therapists can be beneficial to your recovery.
These health care professionals use slightly different techniques but have the same goal of helping improve the quality of life for their patients.
If you are experiencing any pain symptoms and would like chiropractic care, feel free to contact the expert chiropractors at the Arrowhead Clinic.
During your initial free consultation with the Arrowhead Clinic, they will design a treatment plan based on your medical history and a comprehensive exam.
Don't wait any longer to get the relief you desperately need.
If you feel that you could benefit from the medical treatment provided by a Chiropractor near you, click the banner below for a free consultation so you can get started with your treatment plan.
Next Blog: 3 Simple Methods to Fix your Posture and Reduce Pain
Dr. Robbyn Keating
Dr. Keating joined the team at Arrowhead Clinic in 2016 to continue furthering her career as a chiropractic physician. She provides manual and hands-on chiropractic spinal manipulations along with therapy techniques to help restore function and mobility in the body. She specializes in treating a variety of accident injuries along with chronic neck and back pain. Dr. Keating moved to St. Louis, Missouri, from Alberta, Canada, in 2005 to earn her Bachelors of Science degree at Lindenwood University while on an ice hockey scholarship. While in college, she excelled in ice hockey and track and field events. Upon graduation from Lindenwood University, Dr. Keating furthered her education by pursuing her Doctorate of Chiropractic at Logan College of Chiropractic. She completed her doctorate studies in 2014 and then secured a highly sought-after position at a multidisciplinary wellness facility in the St. Louis metro area. It was there she trained under a well-respected chiropractor, who helped her hone her skills and techniques in a high-volume clinic. Since moving to Georgia in 2015, in addition to running the McDonough office for Arrowhead Clinic, Dr. Keating continues her long-standing passion for playing rugby with the Atlanta Harlequins Women's Rugby team. She participates in several local ice hockey leagues and is now working on mastering her cast in fly fishing. One of Dr. Keating's accident patients stated, "Best clinic ever. Kendall, Hannah, Chloe, and Dr. Keating are the best. They have been so helpful during my accident, I have never been through anything like this, and they are making the process so easy and understandable. Recommend this place to anyone!" Dr. Keating offers potential patients same-day, free consultations. She is available Monday-Friday from 9 a.m. to 7 p.m. and Saturday from 9 a.m. to 2 p.m.