Nashville's Best Chiropractor for Injury Care
If you live in the Nashville, Tennessee area and suffer from chronic neck or back pain, then Arrowhead Clinic Chiropractors are here to help.
Whether your injuries are the result of a car accident, slip and fall accident, or any other accident, you should contact our Nashville chiropractic clinic immediately.
Arrowhead Clinic has experienced Chiropractic Doctors that specialize in treating all different types of pain and injuries stemming from personal injury accidents. We have been assisting our patients with their injuries for over 40 years and continue to offer the quality and care that keeps them coming back.
Not only do we employ Chiropractic doctors, but we also have medical doctors on staff so that we can provide the best comprehensive care that our patients deserve. Our Nashville office provides a one-stop solution for medical treatment when you are injured in an accident.
Call Nashville's Arrowhead Chiropractic Clinic today or click on the button below for your free consultation.
Symptoms That Our Chiropractic Care in Nashville, Tennessee Can Relieve
Many common pain and injury symptoms that individuals experience can be best treated with chiropractic care.
Medical doctors do not have the same type of training that Chiropractors have when it comes to treating a soft tissue or spinal injury.
Instead of using pain medication to mask the symptoms, chiropractors use corrective physical adjustments that fix the underlying problem.
Chiropractors have been specially trained in using natural healing and musculoskeletal adjustment techniques that relieve pain and restore your body to its natural, most efficient posture thus leading to better overall health.
Some of the main symptoms that a Chiropractor can treat include: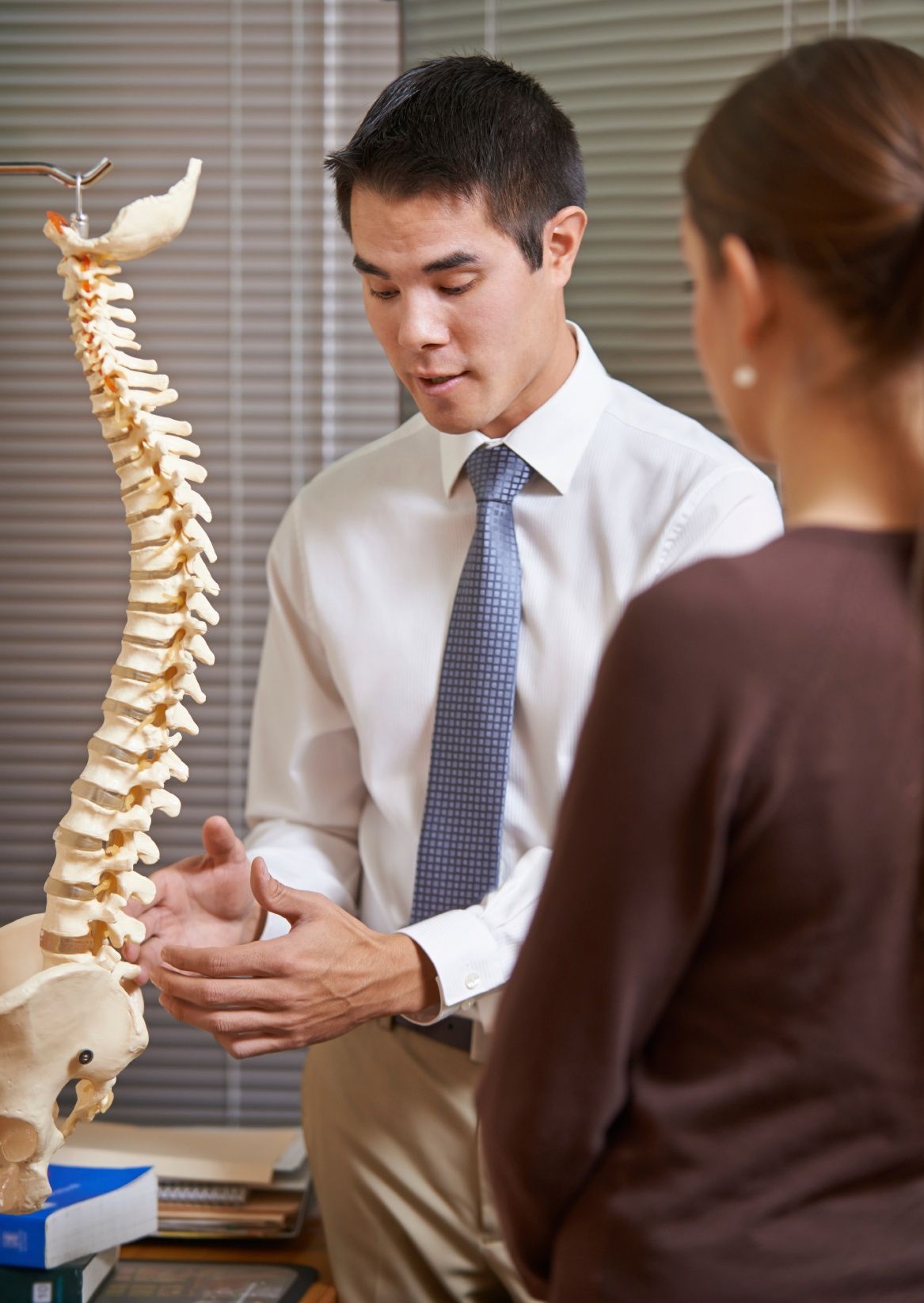 Numbness
Memory Problems
Headaches
Muscle Spasms
Difficulty Moving
Reduced Mobility
Weakness
Stiffness
Dizziness
Slowed Reflexes
Any of these symptoms can quickly begin to take a toll on your quality of life, making even the simpliest everyday tasks seem like an unbearable chore.
Let Dr. Danielle Jones at the Nashville Chiropractic Clinic develop a personalized treatment plan for you. Using her training, Dr. Jones will quickly relieve you of your symptoms, allowing you to regain full mobility.
Common Injuries Our Nashville Chiropractor Treats
The first step to treating any injury is finding what the cause of the problem is.
Many individuals who sustained an injury in an accident contact our Nashville Clinic for help, but we do not limit ourselves to only helping the victims of personal injury accidents.
Some of the most common injuries we treat include,
Muscle Spasms

Bulging Discs

Pinched Nerves
Posture Issues
Headaches and Migraines
Shoulder Pain
Sports Injuries
Sciatica
Slipped Discs
Knee Pain
Carpal Tunnel
Soft Tissue Injuries
Degenerative Disc Disease
Arthritis
Scoliosis
Repetitive Motion Injuries
Once your chiropractor identifies the cause of your pain, you will be provided an individualized treatment plan to cure your condition, reduce your symptoms, and eliminate your pain.
Types of Treatment Performed at the Nashville Chiropractic Clinic
All techniques performed by our experienced chiropractors are safe and natural. Our clients prefer these methods of treatment over costly surgeries and addicting medications that only mask the pain.
Our chiropractic clinic in Nashville, Tennessee focuses on correcting misalignments in the musculoskeletal system and easing muscle tension.
Adjustments to the spine correct the structural alignment of your body and improve your overall physical function.
Some of the spinal manipulation techniques your chiropractor may use to treat your symptoms are,
Spinal Decompression- Uses pressure to put bulging and herniated discs back in their natural position.
Spinal adjustment- Realigns the vertebrae of the spine and reduces pain in the muscles and joints.
Pelvic Stabilization Drills- Used to stabilize the pelvis and correct your walking gait. This is used in patients who suffer from leg length deficiency, flat feet, and subtalar instability. Dr. Keating may prescribe a small lift in your shoe's heel on the short leg side. By adjusting the way you walk, your body will naturally become more structurally sound. It will eliminate pain and reduce tension holding patterns.
Ergonomics Training-

Recommendations on how to modify your workstation or sleeping positions to decrease pain.
Flexion-Distraction Technique- Gentle, h

ands-on pumping action on the intervertebral disc
Instrument-Assisted Manipulation- A spring-loaded instrument allows your chiropractic doctor to non-manually apply force without thrusting into the spine.
The Health Benefits of Chiropractic Care
Chiropractic care is an all natural method used for reducing pain and healing the body.
Some of the benefits chiropractic care patients experience are,
Increases the Body's Ability to Heal
All Natural Treatment Options
Improves Posture
Chiropractors Partner with Medical Doctors
Increases Energy
Improves the Immune System
Improves Quality of Sleep
What to Expect During Your Initial Free Consultation with Dr. Danielle Jones
When you first arrive at the Nashville Clinic for your Free Chiropractic Consultation with Dr. Jones, you will be asked to complete standard paperwork.
We will need some background information about your medical history and conditions, as well as your current symptoms and injury pain so that we can better know how to serve you.
You can be prepared to answer these types of questions:
When did the pain begin?
What triggered the pain to start?
Where are you experiencing the pain?
What decreases the pain?
What increases the pain?
What does it feel like:

Dull
Sharp
Throbbing
Burning

Does the pain come in waves, or is it continuous?
Once we know more about your condition, Dr. Jones at the Nashville Chiropractic Clinic will conduct a thorough examination that will evaluate your range of motion, muscle tone, and stability in the afflicted areas.
An x-ray exam is also required for most patients during their first visit to our clinic. This diagnostic study is performed for your own safety. Your doctor needs to know the specific discs, vertebrae, and joints in the spine that are causing you pain, and make sure it is safe to treat you using chiropractic care.
Once Dr. Jones is finished evaluating all of your results from the diagnostic tests, she will develop an individualized treatment plan.
Contact the Best Nashville, Tennessee Chiropractor Today!
If you hurt yourself or were involved in a personal injury accident, your body can be placed under unwanted pressure, causing a multitude of health problems.
Manual manipulation by our Nashville chiropractor helps to relieve pain in the back and neck by taking pressure off of neurological tissue, increasing your range of motion, reducing muscle tension, restoring blood flow, and creating a series of chemical responses in the body that act as natural painkillers.
By realigning the musculoskeletal system back to its natural position, most of our patients experience some immediate relief from their pain.
If you are looking to reduce your residual achiness, soreness, and stiffness, while restoring your bodies natural flexibility and mobility you need to call our Nashville Chiropractor today.
Dr. Jones from our Nashville Chiropractic Clinic provides a free consultation. Call now to learn how she can best assist with your treatment and recovery process.
If you would like a Free Consultation to speak with her directly, click on the link below now.